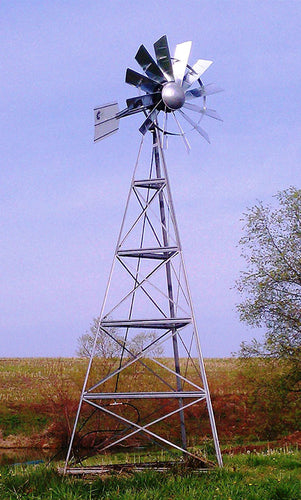 20ft Three-Leg Deluxe Windmill Aerator
20' Three-Leg Pond Windmill Aerator with Dual Air Stations Deluxe Package
This Windmill Aeration Package includes our highly efficient 3-legged, 20ft Windmill Pond Aerator and all other necessary components.
The blade diameter on all units is a full 73" in diameter, the largest windmill head on the market for pond aeration. This allows our units to pump up to 4.5 CFM of air and still turn at low wind speeds due to their windmill heads higher torque. This powerful windmill can produce up to 30 psi of air allowing these units to aerate ponds or lakes that are 10', 20' or even 30' deep.
Our Windmills "BalCam II" Technology allows them to pump more air with a single diaphragm than other "dual diaphragm" models on the market. The benefit is fewer moving parts, fewer bearings, and fewer diaphragms to service and maintain. The compressor is backed by a 5-Year Warranty. 
This complete Windmill Aeration System includes the following: 
3-Legged 20' Windmill Pond Aerator with BalCam II Technology and Stainless Steel components
One 100ft roll of non-weighted airline
Two airstones are to install in two different locations 
Two 100' rolls of weighted airline to sink your airline to the bottom of the pond
One set of pivot points for easier maintenance
One 2-way selector valve to better regulate airflow between the two airstones
Three-hose connector packs
Two airstone housing buckets
Two duck decoy markers
Made in the U.S.A. 
Technical Specifications 
This package offers great value. Perfect for a 2 or even 3-acre pond.
This item ships motor freight.  Please allow 10 to 12 business days for delivery from the time of order.  
Now you have the opportunity to have your own Personalized Tailfin in your Windmill Aerator. Just add it to your cart when you order, and we'll contact you to arrange your design!  
Video
Customer Reviews
11/15/2021
Richard S.

United States
Happy with my purchase
I am happy with the windmill. My pond is looking really good and I am going to install another windmill on another pond after I get rid of some trees. This is a good aerator. It was worth the money and wait