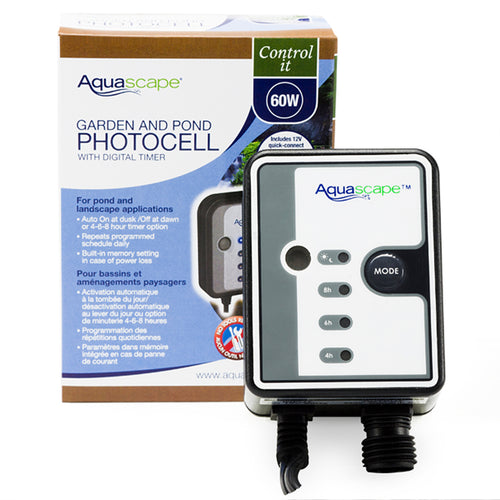 12-Volt Photocell With Digital Timer
Make your pond light timers easy and simple with the Aquascape® water garden and pond 12-Volt photocell with a digital timer.
Easily integrated with other 12-Volt quick-connect components, the Aquascape® Photocell manages your garden and pond lighting by turning the lights on and off at desired times. Repeating a programmed schedule daily, the timer has a built-in memory function, reverting back to the most recent programmed schedule in case of power loss. Either select the photocell to automatically turn on at dusk and off at dawn, or choose one of the three timer options. Timer options include 4-hour, 6-hour, and 8-hour settings, providing a wide variety of options for your personal lighting needs. The Aquascape® Garden and Pond Photocell is able to be used in a variety of applications due to its 60-Watt capacity and 36-inch power cord, and it is backed by a limited 5-Year Full Replacement Warranty.
Part Number 84039
Technical Specifications 
Repeats programmed schedule daily
Auto On at dusk /Off at dawn or 4-6-8 hour timer option
Built-in memory setting in case of power loss
Integrates easily with other quick-connect 12 volt components
36" cord
Up to 60-Watt capacity
Video