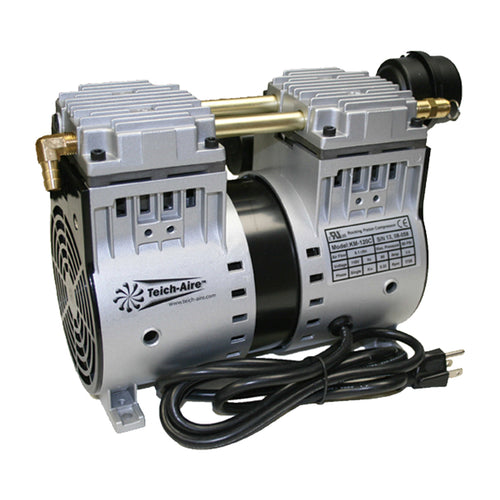 Kasco 1/2 hp Teich-Aire Compressor
Kasco® Teich-Aire™ Rocking Piston Compressors provide efficient, continuous-duty operation with minimal maintenance and quiet operation. 
This Replacement Compressor Kit comes complete with a pressure relief valve, an air filter with a replacement cartridge, a brass barbed elbow,  vibration mounts, intake air filter assembly, brass hose fitting, 6 ft power cable, thermal overload protection, and ramped internal valve plater to allow for restart under load.
Extremely quiet operation. The sound level is 70dB without cabinet (Window air conditioner). 65 dB with cabinet and acoustic soundproofing (Normal conversation) 
oil-less operation
Safely stars under pressure. Maximum operating depth 40 feet.
2-Year Manufacturer Warranty
Kasco Leaders in Aeration Technology for 50 years! 
Part Number 115-V KM-120C
Part Number 230-V KM-120HC
Technical Specifications 
Customer Reviews
11/23/2021
John S.

United States
1/2 HP Air bubbler
Pond bubbles well now. Teach-Aire Ron's well. They even included wrench to remove plugs!!