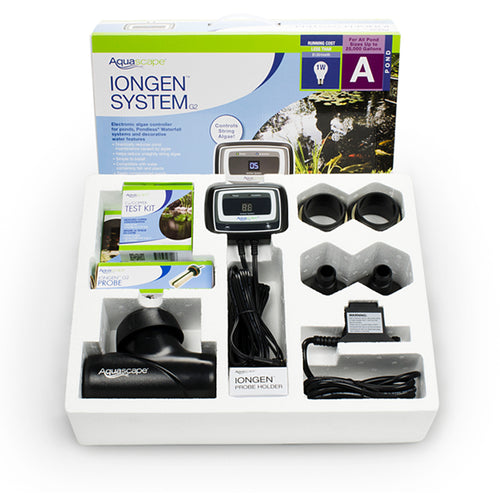 IonGen System G2
Say goodbye to string algae with the Aquascape® IonGen™ System G2!  Ideal for use in Ponds, Pondless® Waterfalls, and other decorative water features, the IonGen™ effectively kills algae without the use of traditional liquid chemicals.
This system helps to control algae growth throughout the entire system (up to 25,000 gallons) by using a microprocessor that sends a signal to its ion-producing probe.  The Aquascape® IonGen™ System G2 is compatible with water containing fish and plants and typically costs less than $1 per month in electric costs. Its simple to install, and energy-efficient design makes the IonGen™ a perfect choice for the discriminating pond owner or professional.
Part Number 95027
Controls unsightly algae and string algae without chemicals
Simple, tool-free installation
Energy efficient (less than $1 a month in electricity cost)
Includes electronic control panel, transformer, flow chamber, probe, and multiple fittings            
Technical Specifications 
This System includes 2" PVC slip fittings and universal barbed hose tail fitting (1', 1.25", 1.5") 
Outdoor weatherproof Control Panel 
Easy-to-read digital display 
Adjustable ionization level
Indicator notifies you when the probe needs to be replaced (the probe typically last 1-3 seasons)
Cable to transformer (12ft long) and probe (15ft long)
Tool-free probe installation
Angled probe helps deflect debris and reduce clogging 
2" threaded inlet and outlet
Durable quick, connect electrical connections
Can be installed directly into the water feature plumbing, or the Flow Chamber can be placed in an area with good water circulation.
Part Number 95027
3-Year Limited Warranty
Video 
This System includes 2" PVC slip fittings and universal barbed hosetail fitting (1', 1.25", 1.5")
Outdoor weatherproof Control Panel
Easy to read digital display
Adjustable ionization level
Indicator notifies you when the probe needs to be replaced (probe typically last 1-3 seasons)
Cable to transformer (12ft long) and probe (15ft long)
Tool-free probe installation
Angled probe helps deflect debris and reduce clogging
2" threaded inlet and outlet
Durable quick connect electrical connections
Can be installed directly into the water feature plumbing or the Flow Chamber can be placed in an area with good water circulation
3-Year Limited Warranty