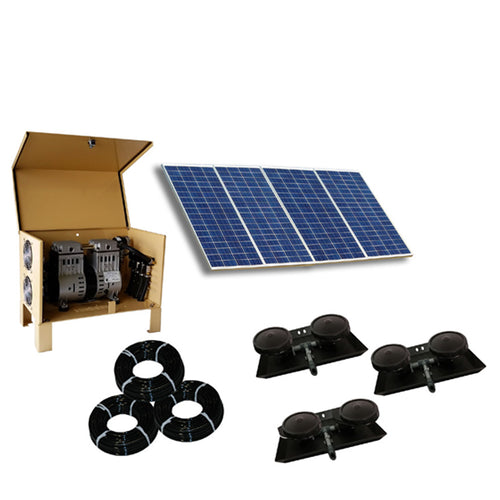 OWS DW(Deep Water) Solar 6 Aerator
OWS Classic Deep Water DW™ Solar 6 Aeration System is designed to aerate 35 ft deep, up to 2.5-Acre ponds.
The Classis DW™ Solar 6 Aeration System is built with the best components available and uses a high-pressure, high-output compressor to move a lot of air to where you need it the most. This direct drive system operates during daylight hours. It is designed to start earlier, run later, and operate during moderately cloudy days, giving you more run time than other battery-free systems. 
The system Includes 1 AC 1/2 hp Piston Compressor in a Powder Coated Aluminum Cabinet, High Output Controller, 4 Solar Panels with Aluminum Frame, Pressure Relief Valve, Pressure Gage, 300-feet of 1/2-inch Weighted Aeration Tubing, 3 Dual Disk Diffuser and 3 Adjustable Valves. 
Technical Specifications 
Compressor and Cabinet
OWS 1/2 hp Quantum™ Compressor
4.3 CFM at 5 PSI Rated Airflow
Oil-less piston and hard-coated aluminum cylinder with permanently lubricated bearing 
Aerates ponds up to 35 feet deep with a rocking piston design
High-quality aluminum cabinet with 2 circulating fans, oil-filled pressure gauge, and pressure relief valve
Solar Panels and Mounting Hardware
High-output solar panels measuring 77"x 39" per panel 
Pre-cut fabricated solar mounting rocks to make installation easier
Includes quick cable disconnects to make assembly much easier 
Customer will need to purchase mounting poles locally 
Weighted Tubing and Dual Disk Diffuser 
Heavy-duty weighted 1/2-in airline. 5/8-in airline is available for longer or deeper runs. 
Outdoor Water Solutions Optimal Air™ Diffusers with self-weighted base
Self-cleaning, low-maintenance rubber membrane diffusers
Warranty
3-Year Manufacturer Warranty on all Quantum compressors. Covers all pistons. bearings, and major components 
5-Year Manufacturer Warranty on the diffusers, bases, and airline. 
5-Year Manufacturer Warranty on the solar panels 
Lifetime Manufacturer Warranty against rust on all Outdoor Water Solutions aluminum cabinets 
This product ships motor freight.  Please allow 10 - 12 business days for delivery from the time of order.